We're an
Equifax Sales Agent
Speed decisions with direct access to superior credit data.
Instant predictive perspective
When you partner with Equifax, you gain instant access to comprehensive credit data to support critical decisions and increase revenue. Leverage the advantage of actionable data, unmatched delivery speed, and the data reliability and currency that Equifax is known for to strengthen key processes and understand your customer, whether a business or consumer, from the most predictive perspective available.
---
Consumer Credit Data
Equifax's consumer credit data contains the most complete personally identifiable information on more than 222 million consumers.
Businesses of all sizes and types, across almost all industries, use Equifax's market-leading consumer credit data to help them make better-informed customer decisions that help reduce financial risk and optimize potential opportunities.
By providing comprehensive, consolidated information about a consumer's current and past credit accounts, including detailed tradeline data, credit inquiries, and personal identifiers plus address history, the data helps businesses validate their identity and predict if they will pay their account promptly.
Consumer Reports
We know you're looking to make quick decisions and improve lending experiences. But to make accurate risk decisions and ultimately approve more loans, you need quality, up-to-date credit data. Leverage Equifax credit file data to grow your business as you:
Target best prospects for customer acquisition marketing
Mitigate the impact of high-risk applicants
Focus collections efforts
Apply scorable decisions to 97% of the credit eligible U.S. population
Based on internal studies using Equifax credit file data. 97% return may not happen for everyone.
See beyond traditional credit to discover emerging risk and opportunity with Equifax.
---
When you partner with Confluent Strategies and Equifax, you'll enjoy: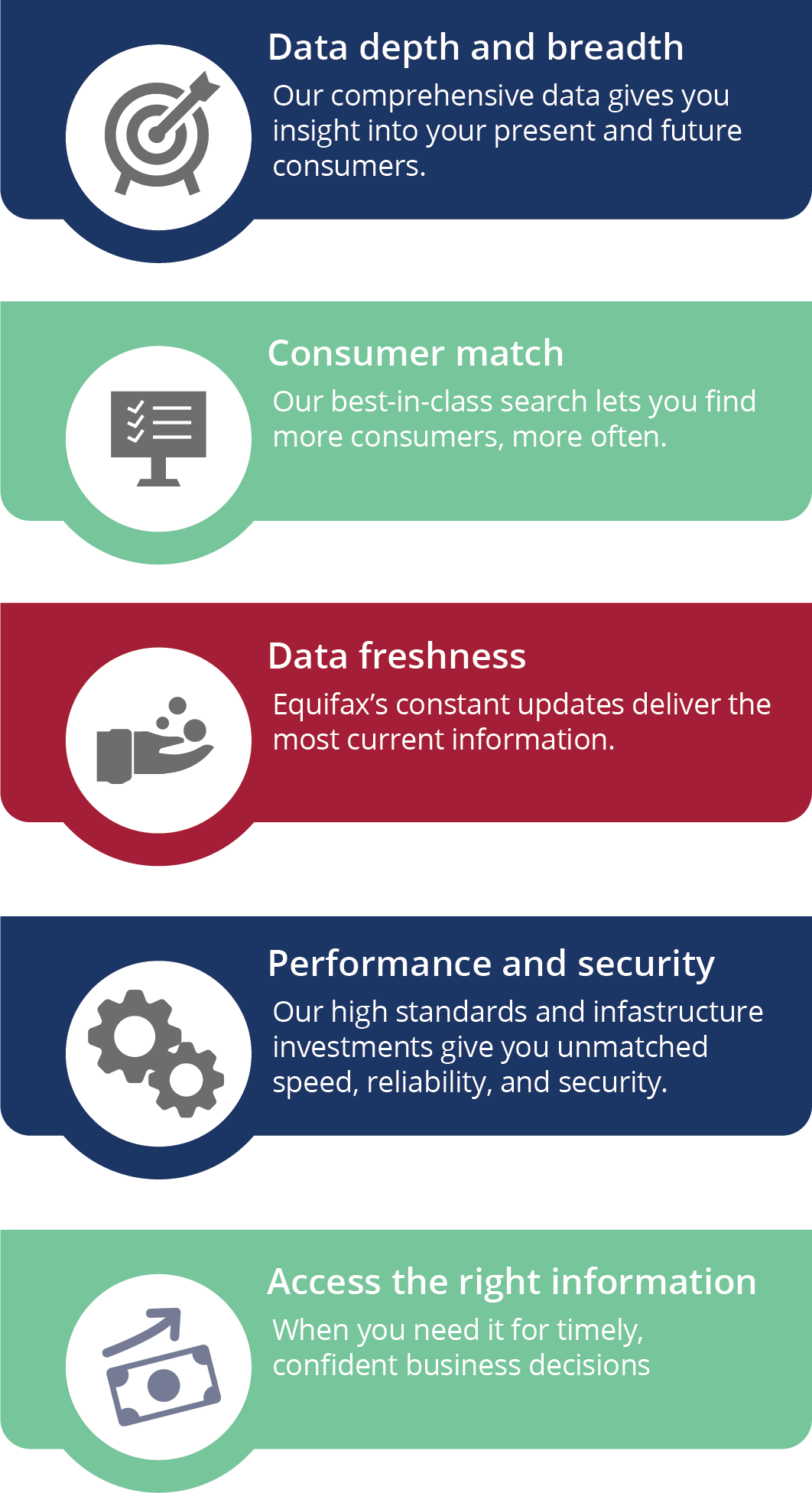 ---
Having quality, comprehensive data from the start is critical in adequately evaluating consumer risk when underwriting loans.
With Equifax as your primary credit provider, you don't just get core credit data. You can also layer in expanded data, like consumer-permissioned and unique alternative data, for deeper visibility into consumers. And you get all this data on the first pull, resulting in faster and more predictive credit decisions for you and quick access to credit for consumers.
Check out these 3 reasons why being first matters.
The use of Equifax consumer credit data is governed by the Fair Credit Reporting Act (FCRA).
Our Services
"We've relied on their expertise and experience to help us navigate the ever-evolving world of credit reporting. We've used them to help us manage our portfolio more effectively and increase the effectiveness of our marketing efforts and we've been well pleased with the results." Summers Townsend, First South Financial Credit Union

"The Portfolio Review (product) has been successful in helping us monitor our credit score migrations as well as allowing us to mine data to leverage potential opportunities." Wendy Anderson, MAX Credit Union

"I would recommend Confluent Strategies to any business that requires a credit bureau provider. The Confluent Strategies staff was extremely prompt in providing a solution that addressed our business requirements." Steven Edwards, Gossett Motor Cars

"The market is inundated with fraud prevention and credit solutions, so having experts by our side to help us understand those services is critical. Leveraging the relationship with Confluent Strategies allows Orion to address business needs quickly and efficiently." Sinaed Kuntzman, Orion Federal Credit Union

"I found the overall experience interacting with the entire staff at Confluent Strategies very refreshing; their customer service was excellent." Steven Edwards, Gossett Motor Cars

"Confluent Strategies helped Orion find the perfect tools to bring online account opening to our community, with the risk-mitigating services of the Equifax eID Verifier platform. Orion can stay compliant and prevent fraud with these types of services, opening doors to new members both in our region and beyond." Sinaed Kuntzman, Orion Federal Credit Union

"Confluent's team has always been exhibited the highest levels of professionalism, and it's a pleasure to work with them." Summers Townsend, First South Financial Credit Union

"Confluent Strategies is a partner that helps us excel." Dawn Graeter, Southern Securities Federal Credit Union

"I'd highly recommend your FI considering to work with Confluent Strategies to grow your loan portfolio, evaluate risk needs, and other special credit-based projects. They truly do care about their clients, business needs, and making a difference!" Jason Newman, Tyndall Federal Credit Union

Our on-demand access to Equifax's comprehensive credit data is unmatched in quality and speed. Combined with the knowledgeable insights by Confluent Strategies, we are able to make more automated decisions and increase our bottom line. Sherrell Armstrong