We're an
Equifax Sales Agent
Boomers to Gen Z: Get to know their financial styles
Do you still write checks? How about visiting ATMs? Do you rely on cashless technologies such as Apple Pay and Venmo? Your answers to these questions depend mostly on your age, and the same goes for your consumers. One size does not fit all when it comes to meeting consumers' financial needs.
As technology continues to change, so does the way each generation views and handles their finances. To succeed in banking, it's important to understand how each age group views money. These basic profiles will help you get to know your consumers and prospects in the context of their generation.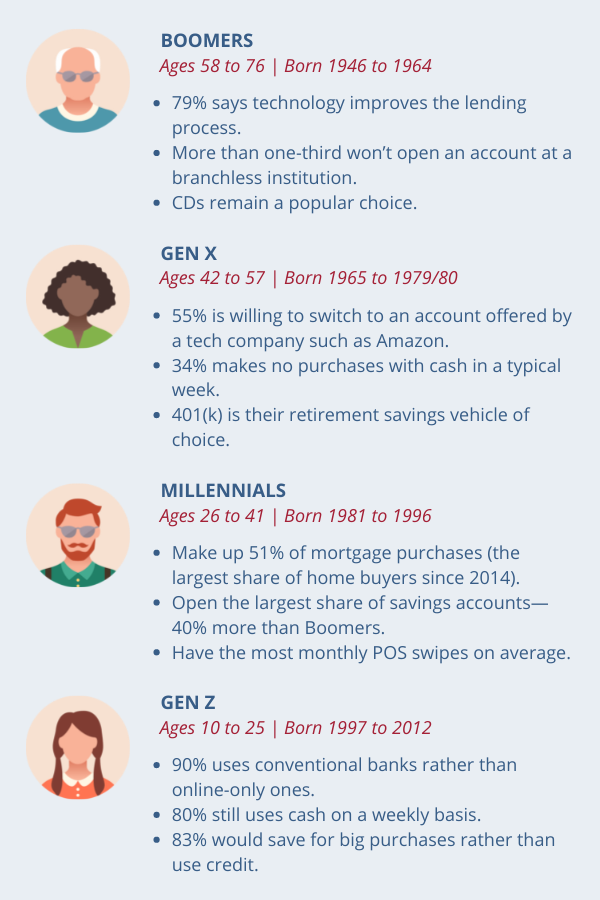 Source: Kasasa
As you begin to create your strategies, products, and services with each generation in mind, you will strengthen consumer relationships and grow revenue. This exercise in creative thinking also helps drive innovation and staying power within your financial institution. Understanding consumer behaviors is the key to remaining agile in the industry and will help you perform at the top of your game.