We're an
Equifax Sales Agent
We can simplify mandatory regulatory compliance.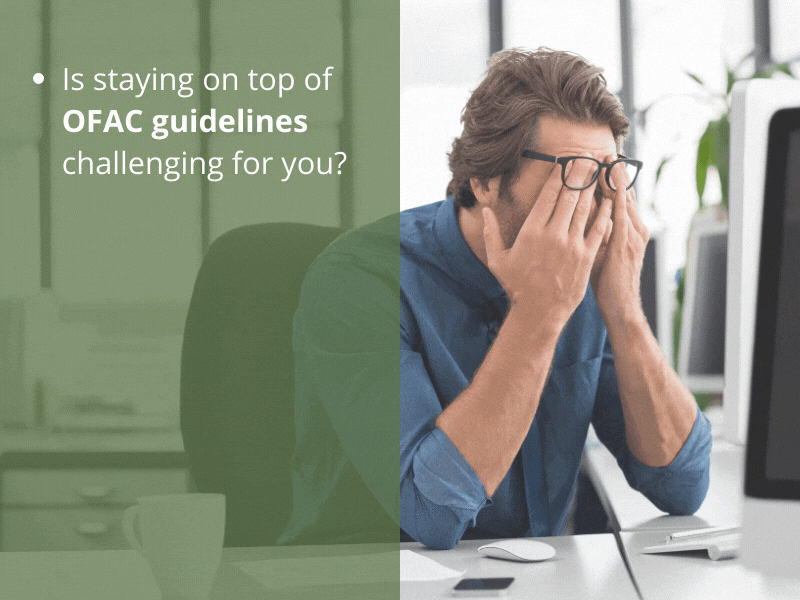 A refresher: What is OFAC?
The Office of Foreign Affairs Assets Control (OFAC) is a financial intelligence and enforcement agency within the U.S. Department of Treasury that administers and enforces economic and trade sanctions to support U.S. national security and foreign policy objectives. To that end, OFAC publishes lists of sanctioned countries, regimes, companies, groups, and individuals.
How does OFAC affect financial institutions?
Financial Institutions are barred from doing business with individuals or entities that appear on OFAC sanctions lists, which are regularly updated. OFAC does not require FIs set up a specific compliance program, but it does require them to abide by its laws, which include:
Performing due diligence to determine whether a "hit" is a valid OFAC match.
Blocking transactions that involve countries and entities on the Specially Designated Nationals and Blocked Person List (SDN).
Rejecting transactions not involving SDNs but prohibited by sanctions laws.
Reporting blocked or rejected transactions to OFAC within 10 business days.
Providing an annual report of blocked property by September 30 of each year.
How can you avoid unknowingly doing business with sanctioned individuals and entities?
That's where Equifax's OFAC Alert comes in. It automatically scans new and existing consumers quickly and efficiently against the most up-to-date sanctions lists. If you have any "hits," you can use Equifax's False Positive Review service to perform the necessary due diligence requirements.
The days of manually comparing your portfolios to OFAC lists are over. As part of your internal compliance program, OFAC Alert will help you adhere to OFAC regulations while protecting your business from financial loss. OFAC Alert not only saves you time and offers peace of mind, but it also helps you avoid steep fines and reputational risk.