We're an
Equifax Sales Agent
Brush up your credit knowledge, increase your value to consumers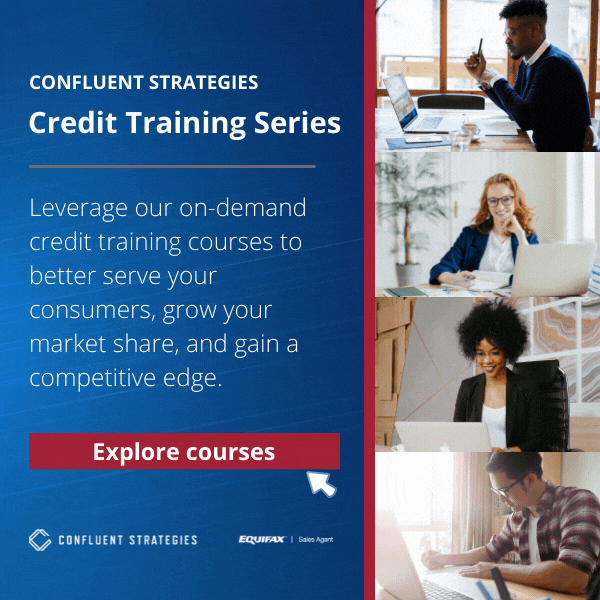 Our credit training is here!
At Confluent Strategies, our mission is to help you understand your consumer data and use proven Equifax solutions to help you and your consumers win. When you partner with us, you'll receive credit education to reinforce our holistic approach to our partnership and your business.

Our Credit Training Series includes the following four courses—complete with videos, quizzes, and certificates of completion:
Concepts of Credit and Scores

(60 minutes, two sessions)

Equifax Credit Report Training: The basics of Equifax credit reports

(90 minutes, three sessions)

Identity Theft: What consumers and lenders need to know

(60 minutes, two sessions)

Credit: Build it or rebuild it

(60 minutes, two sessions) *Also appropriate for consumers.*
We understand that credit data can be complicated, as policies, regulations, and metrics are continuously evolving. Whether you are new to the industry or a seasoned lender, we are here to help you navigate the complex credit environment. Our trainings can be used in employee onboarding, professional development, or as an annual refresher! Participants will receive a certificate upon completing each course.