We're an
Equifax Sales Agent
Kount brings focus to digital fraud prevention + detection.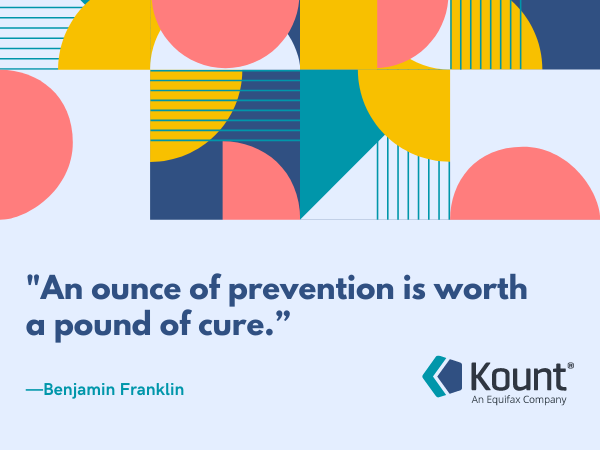 E-commerce fraud has evolved and increased with the rise in online commerce having accelerated since 2020. By 2024, e-commerce merchants may lose an estimated $24 billion to online payments fraud. Although e-commerce fraud increases are nothing new, bad actors are launching more sophisticated fraud attacks.
Common types of e-commerce fraud include payments fraud, friendly fraud, account takeover (ATO) fraud, e-gift card fraud, new account opening (NAO) fraud, and buy now, pay later (BNPL) fraud. Here are some signs of e-fraud to look out for:
Consumers create new email addresses to make purchases or open new accounts.
Consumers order a product in large quantities.
Consumers use shipping or billing addresses that don't match their IP address.
Consumers ship multiple orders to the same address using different cards.
Establishing trust in a digital space is the best way to avoid e-commerce fraud because manual reviews will not be sustainable as business online increases. A leader in digital fraud prevention, Kount has created nine best practices for e-commerce fraud detection, including:
Implement AI and machine learning.
Link fraud signals from a data network that's larger than your own.
Implement risk-based or step-up authentication.
Invest in Address Verification Services (AVS).
Train customer service reps on fraud.
Investing in the right e-commerce fraud prevention solutions can make a big difference in consumer safety and financial results. We'd love to talk to you about your fraud prevention strategies and how you can benefit from leveraging Kount solutions.