We're an
Equifax Sales Agent
Prequalification sparks consumer-driven engagement, increases acceptance rates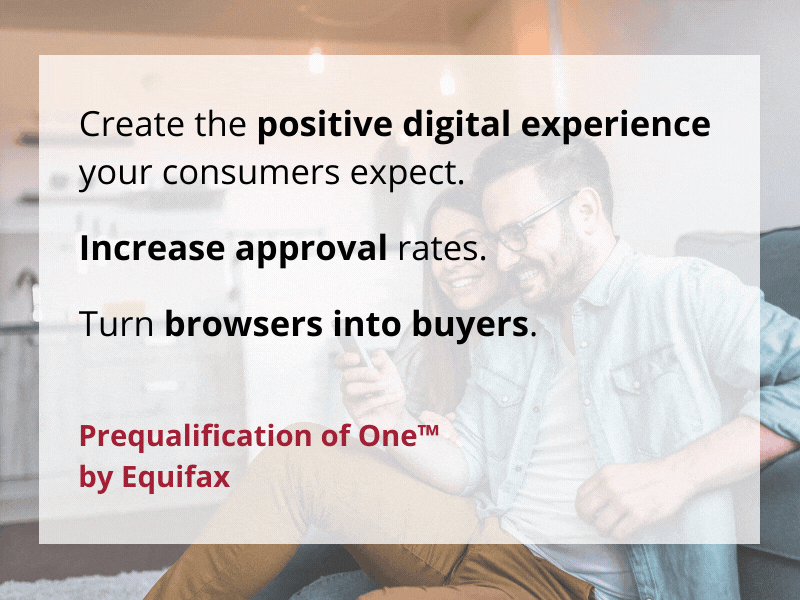 Minimize credit rejection + win consumers.
Many consumers shy away from applying for loans or bank cards for fear of being turned down or taking a hit to their credit scores. With Equifax's Prequalification of One, you can market offers online and allow consumers to determine their eligibility before submitting an application. No hard inquiries involved!
Prequalification of One enables you to:
Engage better digitally with consumers.
Create a more positive user experience.
Reduce consumer abandonment.
Convert more browsers into buyers.
Support consumers with the appropriate offers.
How it works
The Prequalification of One service runs online, but in real time, it can also be used in person, through a call center, at point of sale, and more. And better yet, it is highly configurable and can offer simple or end-to-end solutioning.
The service can be delivered via:
ACRO direct — Equifax customers can continue to use Equifax data the way they already do, and the Prequalification of One solution posts a soft inquiry based on expressed consumer consent.
InterConnect — Decision a prequalification offer in real time. Add scores, attributes, models, and more to present the best prequalification offer to a consumer.