We're an
Equifax Sales Agent
Strike the right balance between consumer experience and security.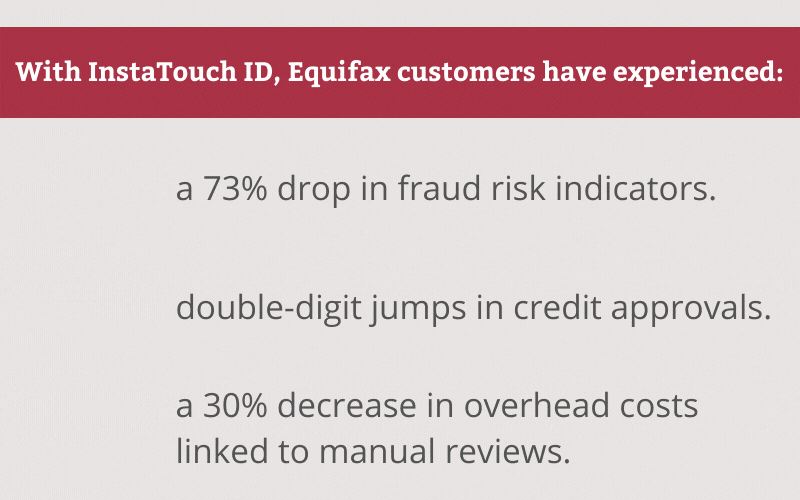 Separate fact from friction!
In the time it takes you to read this sentence, your consumers could be prequalified for a loan by simply entering their ZIP and last-four SSN and be fully authenticated at the same time. 
InstaTouch ID uses Equifax and mobile carrier data to instantly validate your consumers' identities. Then, it autofills form fields with their personal information to reduce data entry and accelerate the transaction process. The fast, secure, and user-friendly experience keeps consumers happy and fraud losses down.
Key benefits:
Capitalize on the prefill advantage.
Reach more consumers and increase completed applications.
Improve fraud prevention and streamline identity verification.
Build greater trust among consumers.
Good news: InstaTouch integrates with most existing technologies and systems. It's easy to implement and scale, can be customized for design and user experience across multiple platforms and channels, and is accessible to APIs.
Interested in an all-inclusive digital solution?
In addition to InstaTouch ID, the InstaTouch Suite includes:
| | |
| --- | --- |
| InstaTouch® Pay | InstaTouch® Offers |
| Streamlines the way consumers make online payments. After their IDs are verified, an API call presents their current credit cards as payment options. | Enables you to align your marketing with consumer data to accurately target and personalize firm offers |