We're an
Equifax Sales Agent
5 Holiday Audiences to Reach Before the End of the Year
Better marketing is powered by better data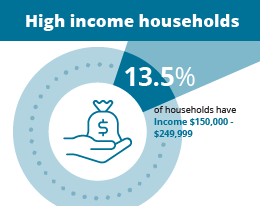 Want to know which online audiences you should be reaching this upcoming holiday season? Our Digital Targeting Segments can help you deliver your holiday promotions to the right audiences.

Use our Digital Targeting Segments to reach the right online audiences just in time for high-potential shoppers to spend their cash.
Equifax directly measures approximately $24T in anonymous U.S. consumer assets and investments, through an exclusive network of leading financial institutions, representing approximately 45 percent of all U.S. consumer-invested assets.
We can help you reach your desired target audience online by leveraging our exclusive insights into the household wallet and consumer purchase intentions. You can then use one of hundreds of segments to improve your targeting for online display campaigns, social and mobile advertising, and addressable TV and radio promotions.